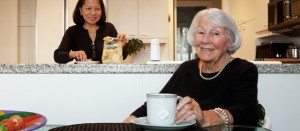 Home care assistance is a necessity for most Americans who wish to age-in-place.  More than 85 percent of Americans age 50 years and older responded that they wanted to remain at home and never move, when surveyed by the American Association of Retired Persons (AARP). Home care assistance can help an elder, parent or loved one do just that: remain at home for as long as possible.
Designed to help your elder stay at home, in-home care agencies typically offer a wide range of assistance, from grooming, bathing and dressing to grocery shopping. Here are five reasons to consider home care services for a loved one or parent:
Reasons To Choose Home Care Assistance
1. Independence. home care assistance allows your loved one to stay in their home and to remain as independent as possible.  Giving them the choice of when they need assistance and when they do not.  It allows them to age in place and seek home care as needed.
2. Family involvement in care. Those who are cared for at home have the advantage of open visiting hours. Family members can help out as necessary without concerns about intruding in the care of others.  Most families want home care professionals in their home for personal services which include bathing, dressing, and use the toilet. It can be embarrassing and awkward for both parties to help with this. 
3. Continuity of care. Because your loved one is able to stay at home, they can continue to see the same doctor, so the continuity of their medical care remains intact.
4. A personal environment. In-home care keeps your loved one in an environment they know and trust.  This is important as seniors with stroke, dementia, and Alzheimer's disease stay in a place they know well, versus moving into a nursing home or assisted living facility where there are unfamiliar faces and new floor plans to learn. 
5. Lower costs. Traditionally, in-home care costs are lower than those found in assisted living facilities or nursing homes. You and your elder get to select the hours of service, using it when your loved one needs the help the most.  Many families use home care because it is the most cost effective form of senior care.  If you are looking for a place with a lot of amenities an assisted living facility is better for you, but the cost associated with it is expensive and can be a burden.  
Take time to research the various options for elder care, so when you do make the decision, you'll know the choice was the right one.  Home care assistance can be a life saver for family caregivers and for the seniors themselves.