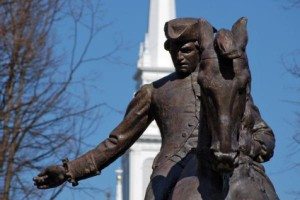 Seniors Enjoying Patriot's Day
If you live near Lexington and Concord, Massachusetts, you're probably well aware that these town pull out all the stops to celebrate Patriot's Day. This year the historic festivities take place this weekend (April 13, 14, 15) as Lexington celebrates its 300th birthday. Good news for family caregivers; this is an opportunity for you to bond with the person in your charge and feel connected with the local community. With a little forethought, seniors in care can enjoy the revelry of Patriot's Day weekend.
Most of the Patriot's Day activities are family oriented, so you can pick and chose which ones fit into the physical and social constraints of your caregiving situation. Some activities are especially wheelchair friendly, such as Hancock Church's handbell ringers. They will present their 11th Annual Patriot's Day Concert on Monday April 15 at 11:15.  The music is played on 5 octaves of English handbells by ringers of all ages
The annual parade has been shifted to Monday, starting at 2:00PM. If you decide to bring your elderly parent or grandparent to the parade, there can be a long walk from where you park, it's best to have a friend drop both of you off close to where you'll sit, and pick you up there when the parade has cleared out. Pack a water bottle, tissues, a portable lawn chair, a small snack like crackers, and a sun hat for a seamless good time.
Remember that reenactments involve rifle shooting and can be very loud. Hearing aids and eardrum damage in the elderly can make sudden loud noises seem louder, painful, or distorted. Bring earplugs or attend an alternative activity. The St. Brigid Parish Church will hold their annual pancake breakfast all morning on Monday, April 15th.
For a calendar of Lexington Patriot's Day activities, go to to the city of Lexington website. For information on Minute Women Home Health Care, visit our website.

_______________________________________________________________________________________________________
Minute Women Inc, is a non-medical home care company based in Lexington, MA and incorporated in 1969. For 43 years, we have served the community as the most experienced home care company that serves seniors throughout Massachusetts.