Home Care Service and BADL and IADL
When looking into a home care service you need to know that there are two different classifications that are routinely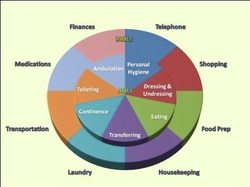 used by health care community to determine the ability to perform basic functions required in daily life. These are called ADL's (activities of daily life). This classification is used to determine the functional status of a person, usually regarding the disabled or elderly. Understanding this information allows you to make a much more informed decision on what your loved one needs. Depending on what someone can and cannot determines how much time they will need with a caregiver, or if they need to be in an enviroment where medical staff are need. As long as it is a non-medical situation we can help clients with both BADL's and IADL's.
BADL's (Basic Activities of Daily Living) – These consist of self-care task that include:
Personal Hygiene & Grooming
Dressing & Undressing
Self Feeding
Functional Transfers (Getting to and from a bed to a wheelchair & On/Off Toilets)
Bowel & Bladder Management
Ambulation (Walking without the assistance of a walking device (walker, cane, crutches) or a wheelchair
IADL's (Instrumental Activties of Daily Living) – are not necessary for fundamental functioning, but they let an individual live independently in a community. These include:
Housework
Taking Medications
Managing Money
Shopping for Groceries & Clothing
Using a Telephone
Transportation
Care of Pets
Meal Preparations & Clean Up
Safety Procedures & Emergency Preparedness
Two Types of Home Care Services
Home health care provided by a licensed professional, who can write prescriptions.
Non-medical home health care that provides companionship and personal care by professional caregivers. Minute Women Inc offers non-medical home care service for our clients.